Just when we think the crazy pace of the holidays has subsided and we feel our lives are finally getting back to normal, we realize that our lives are just plain busy. When it comes to planning for family mealtime, it is nice to know that you have a helping hand close by. At Federal, we are always cooking for you.
Stop in to see our daily in-store features that will make every meal a delicious and satisfying one. From family favorites as rotisserie roasted sliced roast beef and corned beef, home-style pot roast, boneless bbq ribs, gourmet meatloaf in gravy, chicken parmesan, and extra meaty lasagna just to name a few. Along with these main entrées, Federal also has many tasty side dishes and appetizers to choose from, making every night a delicious one.
We're cooking up items anyone would be proud to serve their family any night of the week. Give us a call and see what's cooking tonight!
A New Twist on Buffalo's Traditional Fish Fry $9.99
Come in & check out western New York's only Rotisserie Fish Fry. These delicious fish fry's dinners are available in traditional beer battered or breaded haddock, and can be ordered for lunch or dinner.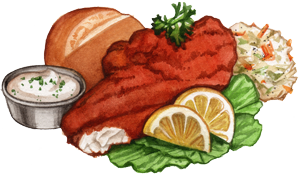 on Wednesday's or Friday's during the busy Lenten season. They are also available on Friday's all year round. Federal Fish Fry's are done a little different. They are rotisserie roasted to perfection and come with your choice of two salads and bread. The dinners are cooked fresh to order and can be ready for your enjoyment in 35 to 40 minutes. Federal Meats also has a flavored line of fish you can choose from as well. For a small up-charge, you can choose from tasty tortilla or parmesan crusted tilapia or deliciously flavored salmon is available upon request.
All dinners are so light and flavorful; the hardest part will be choosing which fish selection to have.