The Time is Finally Here – So Let's Get Grilling…
Even with the long winter along with the agonizing slow start to the spring-like weather – we all need to ban-together with some positive attitude and just BELIEVE.
Here at Federal, Grill Season is officially here and we're all ready to supply you with all your grilling needs. From great assortments of freshly made patties & links, to our amazing selection of steaks & chops, to freshly made kabobs and tender spare ribs; there's something perfect in-store for everyone's taste.
And it doesn't stop there… You can pick up ready-made sides from our deli and our fresh cooked off counter. It all adds up to ultra-convenient shopping that lets you enjoy wonderful tasting food, fast.
Entertainment Made Easy
Springtime Parties, Picnics & Get-Togethers
With spring and early summer entertaining just around the corner, why not make your planning quick and easy. Federal's own rotisserie roasted sliced roast beef makes a perfect main course every time. So fresh and tender, and served with rich au jus, our roast beef is perfect for Communions, Confirmations, Graduation and Reunion parties as well as your other special occasions.
Looking for a little more variety, ask about our tasty deli platters. Available in various sizes, our deli platters contain freshest sliced deli meats and cheeses and are sliced fresh and arranged to make a beautiful presentation no matter what the occasion.
Just give us a call – we're here to help you make your party planning a snap.
Fish Still Tastes Great on Fridays – Or Any Day of the Week ~ $9.99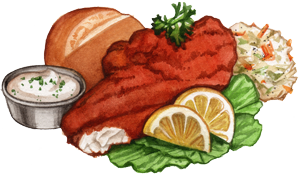 Just because Lent is over, it doesn't mean you can't have Buffalo's favorite beer battered haddock fish fry. Available hot and fresh on Fridays, our fish fry is hugely popular due to the process in which it is prepared. We rotisserie roast each piece to perfection, teaming up the mild flavor of the fish with a nicely finished texture. You are sure to savor every bite…
Federal's Own Rotisserie Roasted Fish Fry $9.99/EACH
(Your choice of Breaded or Battered Haddock with your choice of 2 deli salads & bread)
** Phone Ahead 40 Minutes before pick-up.  **
Available Monday – Saturday 11am – Close
(Flavored Salmon and Tilapia also available for a small up-charge)