March is Here & We Could Not Be Happier!
Whether your Irish or Not – It's time to enjoy some traditional good-eating! Stop in & check out our wonderful selection of Corned Beef Rounds & Briskets.  Federal's Corned Beef is what we believe to be the best tasting corned beef in western New York.  Made from an authentic old-world recipe, this traditional March favorite is oh so moist, tasty & delicious and is brined to savory perfection. Federal's Corned Beef is perfect for your St. Patrick's Day celebration or for anytime of the year! Call ahead and order yours today.
Now Taking Orders For All Your Holiday Needs
Looking at the calendar, finally – we can officially say hello to springtime. With that, we are excited for all the wonderful events ahead that we share with our family and friends. With Easter and Passover right around the corner, we recommend planning ahead when it comes to your purchasing all of your seasonal favorites. Get a head-start on your planning and pre-order all of your favorite holiday items today…
Fresh Lamb Legs
Delicious Tender Lamb Chops
Bone-in or Semi-Boneless Hams
Fresh & Smoked Polish Sausage
Freshly Made Stuffing and Mashed Potatoes & Gravy
Crown Roast of Pork
Chicken Cordon Bleu
Extra Large Shrimp
Boneless Rib Roasts
Whole Beef Tenderloins and Gourmet Tenderloin Steaks
Tasty Pierogi (Cheese, Kraut or Potato)
Eggs
Butter Lambs
Delicious Fruit & Cream Pies
Looking for something special? Just give us a call. We are your trusted source for the freshest specialty items available.
A New Twist on Buffalo's Traditional Fish Fry $9.99
Come in & check out western New York's only Rotisserie Fish Fry. These delicious fish fry's dinners are available in traditional beer battered or breaded haddock, and can be ordered for lunch or dinner.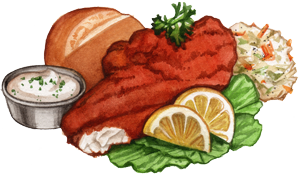 on Wednesday's or Friday's during the busy Lenten season. They are also available on Friday's all year round. Federal Fish Fry's are done a little different. They are rotisserie roasted to perfection and come with your choice of two salads and bread. The dinners are cooked fresh to order and can be ready for your enjoyment in 35 to 40 minutes. Federal Meats also has a flavored line of fish you can choose from as well. For a small up-charge, you can choose from tasty tortilla or parmesan crusted tilapia or deliciously flavored salmon is available upon request.
All dinners are so light and flavorful; the hardest part will be choosing which fish selection to have.