Don't forget that someone special this Valentine's Day.


Pre-Order all your favorite dinner items today
SPECIAL THIS WEEK:



Grade A Extra Large Eggs $1.79/Dozen
  LAST WEEK   
Fresh Frozen Extra Large Shrimp $6.99/Lb. SAVE $2.00 Lb.
(31 to 40 count)
Whole Beef Strip Loin – Cut & Wrapped to Order 7.99/Lb.
(10 to 12 Lb. Average)
Valentine's Surf & Turf Special for Two      $39.99
Enjoy your choice of the following:
(2)  6 oz Gourmet Filet Mignon  with (2)  6 oz Lobster Tails
                                           -OR-
(2)  8 oz. NY Strip Steak  along with (2)  6 oz. Lobster Tails
               (Now through Saturday, February 24th)
Super Pork Sale:
Federal's Famous Stuffed Pork Chops       $3.99/Lb.
(Bone-In or Boneless)
Center Cut Pork Chops                                  $3.99/Lb.
(Bone-In or Bnls.)
Boneless Pork Roast                                       $3.99/Lb.
Stuffed Pork Roast                                          $3.99/Lb.
DELI SPECIAL:
Federal's Own Rotisserie Roasted Sliced Roasted Beef
with FREE au jus $9.99/Lb.

Federal's Own Bologna $4.99/Lb.
FEATURE OF THE WEEK: SEAFOOD OFFERINGS
With Lent right around the corner, we are often called upon by our customers to offer some 'real' meal suggestions that we recommend during this special time of observance.  We are happy to tell them that not only is our Rotisserie Roasted Fish Fry available fresh and hot to order; but we have a wonderful selection of other seafood favorites as well.
May we recommend:
Breaded Haddock                             • Beer Battered Haddock
Boneless, Skinless Haddock           • Asiago Panko Crusted Haddock
Crab Cakes                                         • Lobster Tails (3 sizes Available)
Extra Large Shrimp                          • Scallops
Tortilla Crusted Tilapia                   • Wild Pacific Salmon Steaks
Parmesan Crusted Tilapia               • Tuna Steaks
Tuna Salad, Egg Salad for Sandwiches also available

Fresh Frozen Seafood Selections & Rotisserie Roasted Fish Fry
– Available Year Round – 
May we also suggest:
For those looking for some meatless meals, may we suggest some of our delicious pastas such as stuffed shells, ravioli, pierogies (cheese, kraut or potato), macaroni and cheese as well as our great selection of pasta salads and tasty sides.  We also have a variety of tasty soup mixes that can be prepared alone (meatless) or paired up with our wonderful seafood selections for an added new twist.  Give the tasty Tortilla Soup or Corn Chowder a try – your family is going to love it!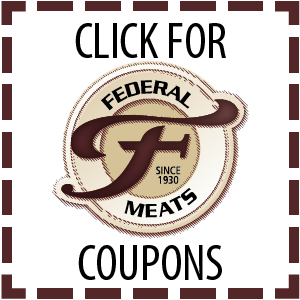 ---